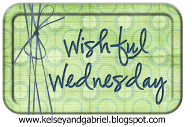 'I wish' .... I could spend three
minutes in
Taylor Swift
's shoes!
This poised young lady seems to have it all -- although we all know no one really has it all. She is talented, beautiful, kind, light-hearted, adorable, independent, confident, intelligent and friendly. I've loved her for a while, but I really caught a glimpse into her sparkling personality when she was on Oprah a couple weeks ago. I almost couldn't contain myself. She is a normal 19-year-old girl who loves to sing and play her guitar, and she just happened to have realized her greatest dream. She loves her life. She knows who she is. She follows her heart. All traits that I am trying to build in myself.

For just three minutes, I'd love to know how it feels. To be so young, yet so accomplished. To have such self-realization and confidence, to be assured I'm on the right path.

Plus, she has a great, casual fashion sense and style! And she really OWNS her curly locks.