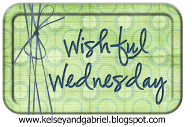 'I wish' .... I had the startup funds to build that company I have always dreamt about, and it would be a DANCE STUDIO!
My business, actually, would be similar to Kelsey's (total fitness gym), except for dancers. Yeah, let's think of it as a gym/spa/store just for dancers! Of course there would be a studio where lessons in all types of dance would be offered: from traditional such as classic ballet training and tap to exotic like Latin and African dance. There would also be a Yoga room and weight room to help dancers remain balanced, strong and flexible. There would be all your other standard gym offerings: locker room, jacuzzi, nutritionist, massage therapy, smoothie bar... plus a shop with all things dance-wear! (I'm a tad addicted to dance apparel.) There would be a classroom where students would learn the history of dance, have music lessons and listen to lectures of different dancers and choreographers.
I might be going overboard, but this total concept just occurred to me. I always thought it would be cool to run a small studio, but this mega dance world seems MUCH better. And, since it would be so popular, students would have to go through an application/audition process and be accepted. I only want serious dancers at my studio! I would also offer scholarships for those who have the talent and determination and love for dance, but cannot afford tuition; maybe I would collaborate with the Dizzy Feet Foundation, which I was super excited to hear about.
As a kid, I would have only dreamed to dance at a place like this, and I would love to be able to give that opportunity to other dancers.