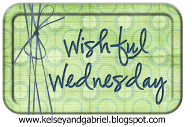 'I wish' .... I had _____ hair/hairstyle!
So, this is my new Wednesday fun, and I get an easy one to start off with -- although, I'm envious of many people's hair, so I could go on and on and on...
But I won't. Instead, I'll post some pictures of a lucky lady with beautiful locks that never seem out of place, no matter what hairstyle she sports. I only wish I could be so lucky. Long or short, wavy or straight, bangs or no bangs, pulled back or falling free, formal or casual... How does she do it?
Miss Reese Witherspoon, I envy you and your blond tresses.